ZX050
Characterization, ASIC / discrete load board and testing modules designed for bring up and test & measurement ≤ 0.14dB signal loss at DC to 10GHz.
Ideal high speed test modules, bringup.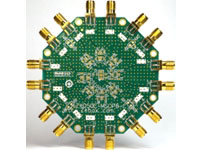 ZX100
Breakout adapters supporting Samtec Mictor FMC Vita 57.1 Altera HSMC HAPS PCISIG M.2 NGFF and more connector series.
Ideal test board for pre-bringup, bringup, test measurment and interface to emulation systems.

ZX200
Full characterization and test modules for HDMI 2.1 Display Port and USB 3.1 including the USB Type C at 10.2GHz bandwidth.
Designed to meet electrical compliance test with exceptioanl performace with reliability in mind.
See S-Parameter for full details
ZX00x Accessories
RF High speed SMA coax cable assembly DC to 20GHz+ complementing Zebax high speed test modules supporting HDMI USB DisplayPort and more products. Agilent test and measurement cable assemblies as well as precision 50 Ω SMA loads and more.